The REINTDECK and REINTDECK EASY by Casals air purifiers convert any large indoor space into an environment free of contaminating particles and thus leaving a much healthier air.
It is designed to reduce the viral load of the rooms given the constant air renewals that it carries out, either centralized version for false ceiling installation (REINTDECK) or decentralized hung version without duct (REINTDECK EASY). Ideal for:
• Supermarkets
• Pavilions
• Gyms
• Restaurants
• Health sector
• Offices
• Hotels
• Homes
• Colleges and universities
Powered by an EC electronic motor, REINTDECK purifiers ensure quiet and efficient operation. With several filtration stages, they include absolute HEPA 14 filters that in a short time reduce most of the harmful particles that exist in the environment *.
REINTDECK is the centralized version whose installation is done through duct, replacing an ARMSTRONG false ceiling plate (600x600) with a purification unit:
Aspiration by substitution of false ceiling ARMSTRONG plate.

Model with electronic motor, 1800m3/h, for indoor spaces up to 182m2, with 3 renovations/hour, at an installation height of 3m.

Triple filtration stage in each panel with the following composition:

5 ISO Coarse 65% (G4) filters

5 ISO ePM1 70% (F7) filters

1 HEPA 14 filters

15 filters in each purification unit

ISO Coarse 65% and ISO ePM1 70% pre-filters increase the life of the absolute filters HEPA H14.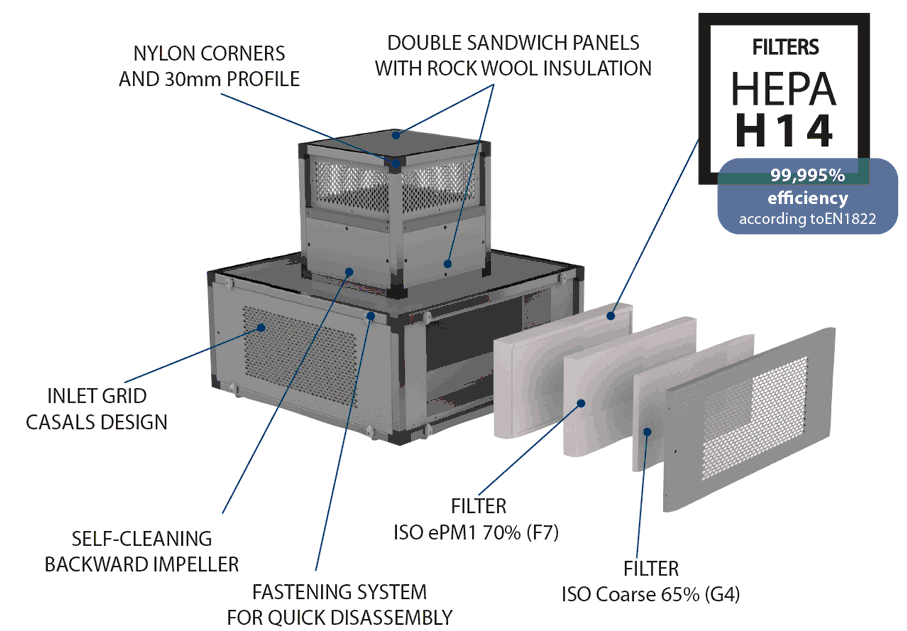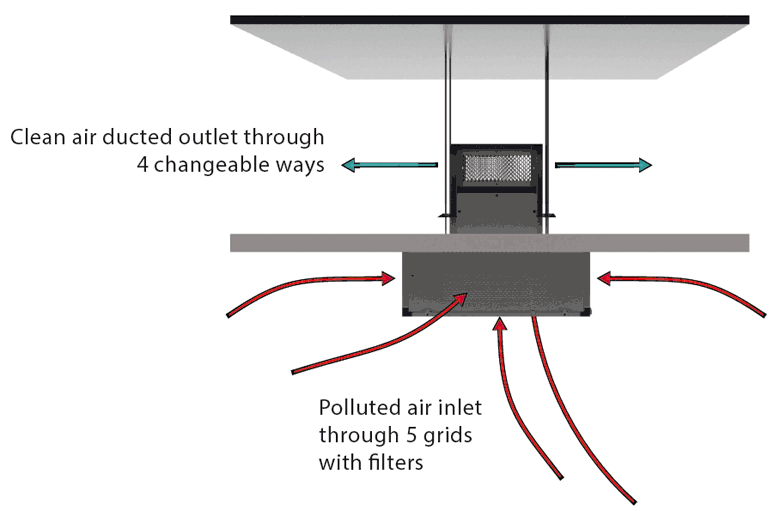 REINTDECK EASY is the decentralized version with hanging installation on ceilings without plates. It does not need to duct air.
Aspiration of polluted air through the lower panel.

Clean air supply through the 4 side panels.

Model with an electronic motor, 1200 / h, for interior spaces of up to 126m2, with 3 renovations / hour, at an installation height of 3m.

Double filtration stage in inlet panel with the following composition:

1 ISO Coarse 65% (G4) filter

1 ISO ePM1 70% (F7) filter

Simple filtration stage in 4 contribution panels with adjustable diffusers. Composed of 1 absolute HEPA 14 filter in each panel (4 in total).

The ISO Coarse 65% pre-filters increase the life of the absolute filters HEPA H14.

6 filters per purification unit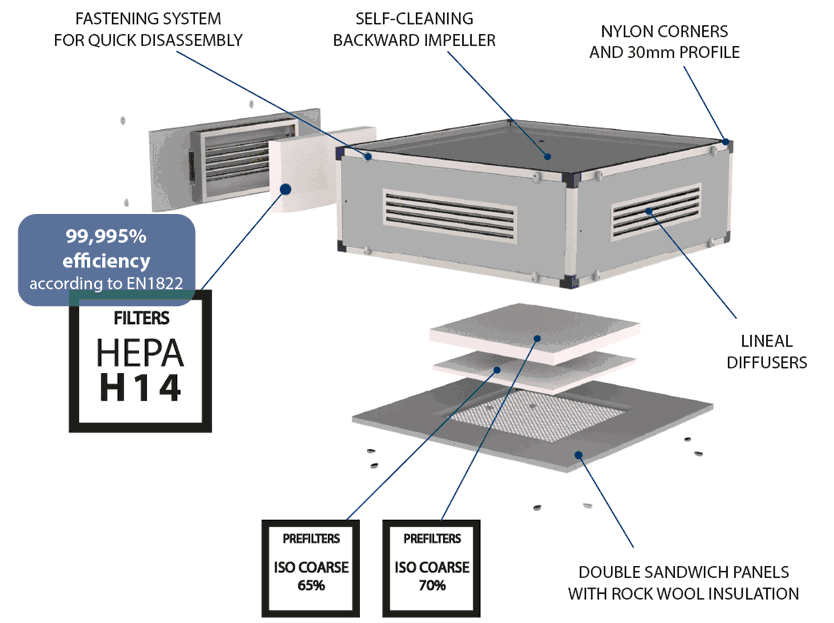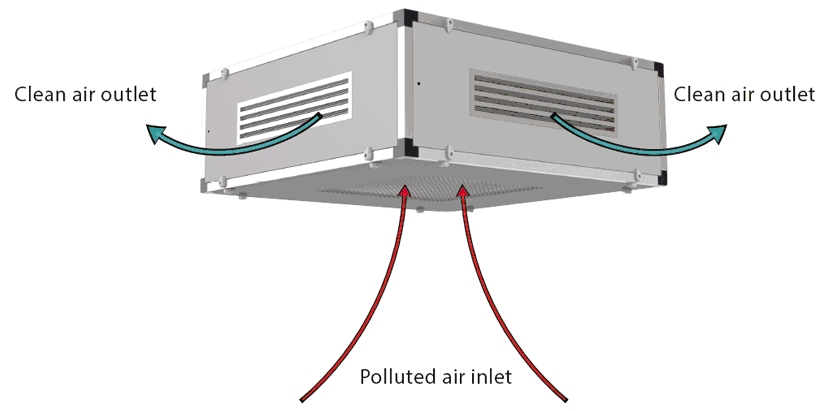 See how in less than 5 minutes, a single unit of REINTDECK 1800 EC manages to move air from an entire room of 196m2 and 3m in height.
*IMPORTANT:
The REINTDECK and REINTDECK EASY purification system ensures the reduction of viral load by retaining viruses and bacteria (including COVID-19 coronaviruses) that pass through its high efficiency HEPA 14 filters. 100% air purification cannot be guaranteed in a specific space as it depends on different factors such as: architectural distribution of its location, external air currents, minimum operating time, improper use of the unit, obstruction of air inlets, maintenance level of the unit and the state of your filters, etc.
download PDF