The forges are stoves used to forge metals and in which it is necessary to pass a horizontal air flow through a manual or mechanical bellows.
As a mechanical solution there are fans and for this case the Casals MA' s are suitable, which have a long history in an application as traditional as the forges.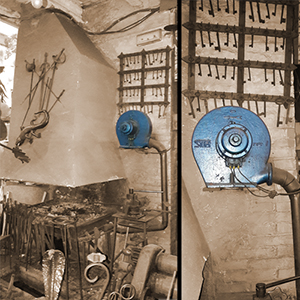 Storm fan by Casals installed in a traditional forge from 1900 in Palafrugell (Girona).
There are MA made of different materials:
MA 18 to 25: iron housing and aluminum impeller.
MA 26 to 31: aluminum casing and impeller.
In industrialized forging processes, medium pressure fans are required to supply air and extract air and smoke. For this case, Casals proposes NIMUS fans, which are manufactured in all kind of steels according to the needs of the installation:
stainless steel
wear steel
steel suitable for high temperatures
These fans are usually incorporated a draining plug to work in loaded environments, and inspection hatches to facilitate the maintenance and cleaning of the impeller.
To minimize the risk of fire due to the combination of waste from the forge and the lubricating oils used in the machinery, it is convenient to install ATEX fans.