Effective air purifiers against COVID-19
Breathing healthy air in our office, in our business or in our home has now become much more important than it used to be. Because of the coronavirus, comfort and health are not only sought by an environment with fresh air, but now an environment clean of harmful particles is also required. The main objective is improve indoor air quality (IAQ).
Air purifiers are the most balanced solution for reducing the viral load of the spaces we inhabit, visit or where we work. Within existing sanitation systems, purifiers equipped with mechanical filters are those that can effectively clean the air without being toxic to people or the environment. If these purifiers are also equipped with a photocatalysis system and UV-C (ultraviolet) lamps, the viruses captured by the absolute filters are inert.
According to some studies, such as the one published by the Spanish JG Ingenieros project office (see report), HEPA filters are the only effective ones for the correct ventilation of ICUs. Thus, it is not surprising that any of our purifiers is perfectly valid for reducing the viral load of any space where there is any human activity since they all have various filter stages that contain absolute HEPA-14 filters, whose efficiency is 99.995%.
Breathe easy with Casals purifiers, designed to offer optimum indoor air quality, being perfectly complementary to existing air conditioning systems, split or ducted or other ventilation systems. Discover the Casals range of air purifiers to improve the indoor air quality and reduce the viral load.
What about to the other sanitation systems on the market? What are effective in dealing with COVID-19?
As stated in the study by JG Ingenieros, "for the reduction of the concentration of particles in the air, particles that can carry associated bacteria or viruses, it can be done by installing ventilation using two concepts:
Capturing these particles that transport the virus through very high-efficiency filtering systems, starting with HEPA‐13 or MERV 17 and which can also be supported by bipolar ionization systems to improve particle retention, as well as lamp systems UV for the degradation, burning and inerting of a part of these particles.

Diluting the concentration of the particles by providing a high amount of clean ventilation air and performing a high extraction, so a sweep is performed.
However, let us briefly see in this table what are the main differences of the 6 existing sanitation systems to deal with coronavirus, assessing their toxicity, speed of results and sanitary authorization to fight against COVID-19.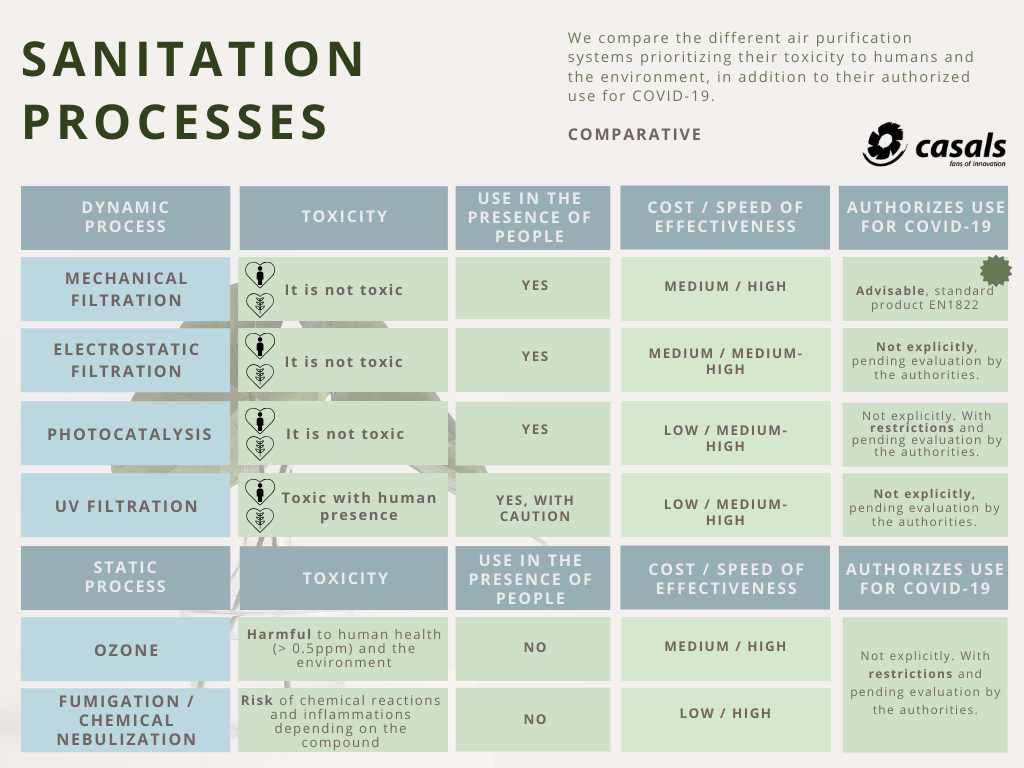 As seen in the table above, the only process explicitly authorized to combat COVID-19 is mechanical filtration, a standard product according to EN1822. This is where the HEPA-14 filters that our purifiers have are framed. It is not toxic, it can be used in human presence, it has an average cost and they take effect quickly.
As an example, the following video shows how a REINTAIR 600 installed in a room of 81m2 and a height of 2.5m, manages to move the air in the entire room in less than two minutes. This means that in just 20 minutes you will have been able to reduce by 60% the viral load of what could be an office, a store, a class, a bank, or a library that is supposedly contaminated.
Mechanical filters clean the air using fibers of different types and configurations that retain small solid particles in suspension such as insects, smoke, pollen, bacteria, viruses, etc. They are installed in ventilation systems.
Electrostatic filtration cleans the air by high voltage electrostatic charging, capturing previously ionized particles and reducing atmospheric pollution. Like mechanical ones, these filters are installed in ventilation systems and have an average cost, but they do not have such a rapid effect against harmful particles. It is also not toxic and can also be used in the presence of people. However, this process is not explicitly authorized to remove COVID-19, it is still pending evaluation.
Photocatalysis consists of a photochemical reaction that converts solar energy into chemical energy to end up degrading airborne pollutants, volatile organic compounds and particles of biological origin. Although it is not toxic, and for the (low) cost it offers very fast results, it is also not explicitly authorized and is used with restrictions. It is applied by photocatalyst
Similarly, UV (ultraviolet lamp) filtration has a low cost and is quick to inert viruses, bacteria and other pathogens, but it should be used with caution in the presence of people because it could be toxic (eye irritation). Although it is still under review, it is very suitable as a complement to other sanitation systems such as fully authorized mechanical filters.
Up to this point we have only talked about dynamic type sanitation processes, but there are also static ones, such as ozone and fumigation. The use of both systems is discouraged in the presence of people since they are toxic not only for humans but also for the environment depending on the amounts used.
Ozone or O3 uses the oxidative power of disassociated oxygen molecules to disinfect viruses, bacteria, fungi, and chemical contaminants in liquids, but is not as effective in air. In order for it to work (only in liquids as it has not been shown to work in particulates in the air), the ozone cannon must give off 20ppm to 80ppm, amounts that exceed the limits of toxicity in humans (from 0.5ppm already is toxic). Its effects on the ecosystem and health are disastrous, as detailed by MITECO (Ministry of Ecological Transition):
"Exposure to high levels of it causes respiratory problems on human health (irritation, inflammation, respiratory failure, asthma) and can contribute to increasing premature mortality; It can also damage vegetation, affect the growth of crops and forests, reduce the absorption of CO2 by plants, alter the structure of ecosystems and reduce biodiversity. Furthermore, it is a greenhouse gas, which contributes to global warming. "
Fumigation consists of chemical treatments: chlorine, sodium hypochlorite, chloramines, bromine, hydrogen peroxide, etc. To prevent the spread of bacteria and viruses, administered centrally or located in a focus, or in the form of steam. It has a low cost and its effects are fast but it cannot be used in human presence since it poses a risk of chemical reactions and inflammations depending on the compound.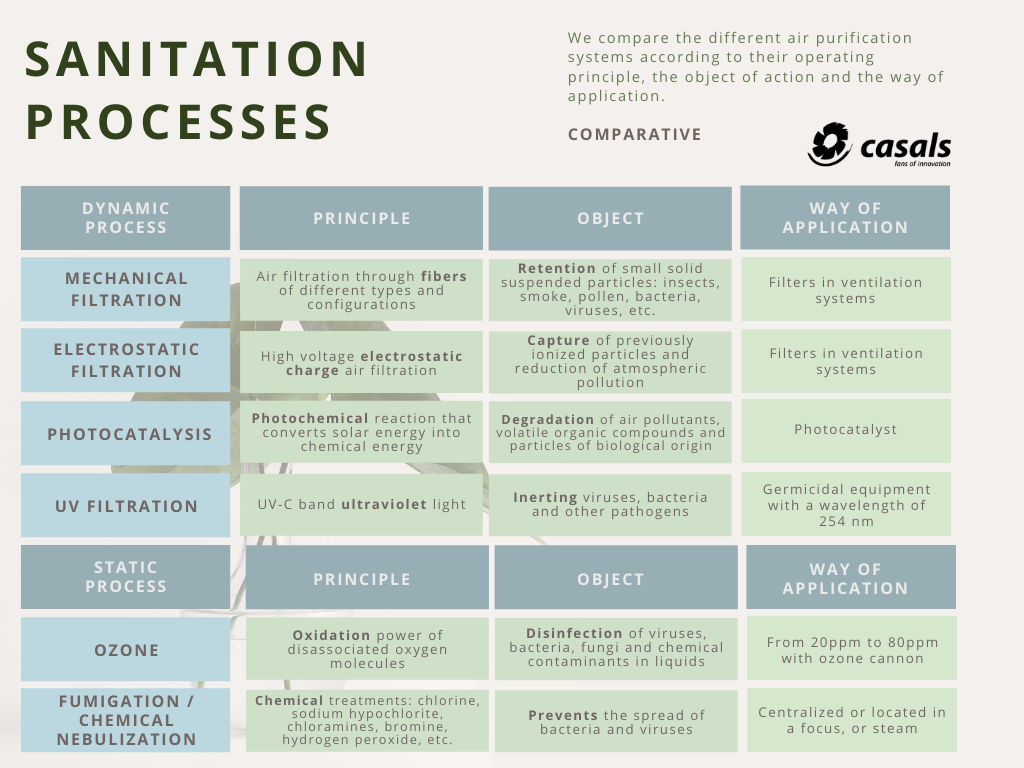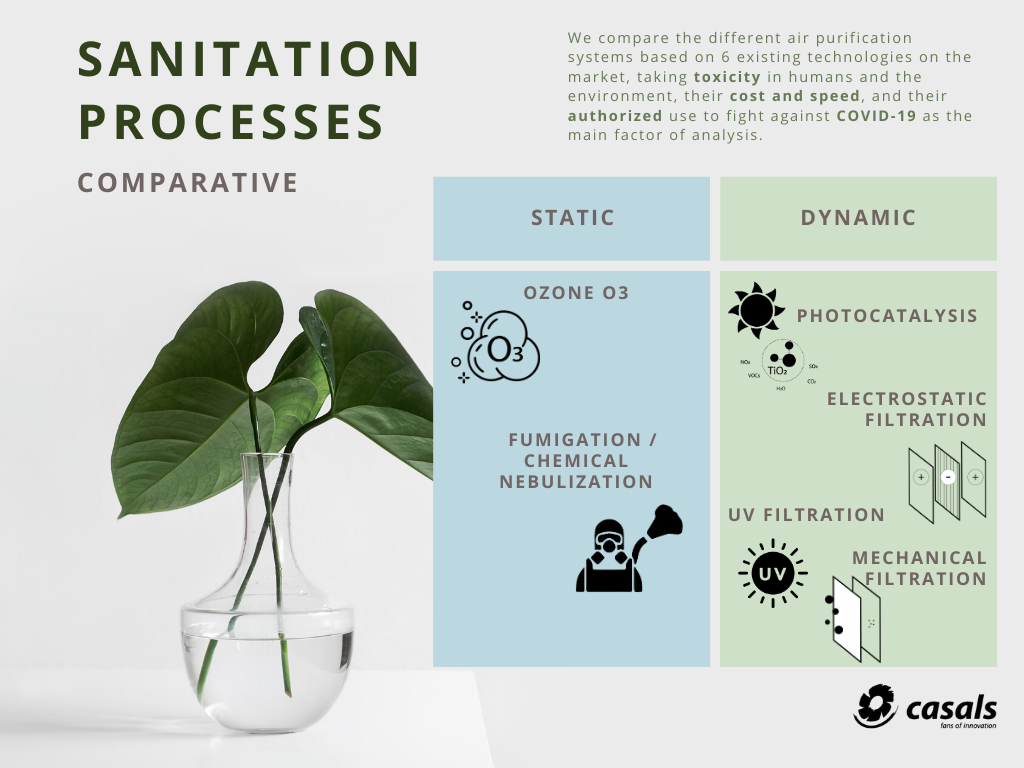 Each sanitization process has its efficacy and performance, but the data highlights that the least risky process for virus filtration such as COVID · 19 is the mechanical filtration system. Compatible with existing ventilation systems in the premises, office or room, the mechanical system reduces the risk of contamination through air conditioning, due to the high effectiveness of HEPA14 filters capable of retaining the virus. All the technology developed and applied in the REINTAIR is easy to apply, because by simply plugging in the compact filter equipment it is capable in a few minutes of offering filtered air quality reducing the risk of contamination. Easy to install, it is very useful in offices, health centers, clinics, schools or colleges, small shops or large stores. Casals also has a version equipped with ultraviolet light and photocatalysis, it is REINTAIR® WARRIOR.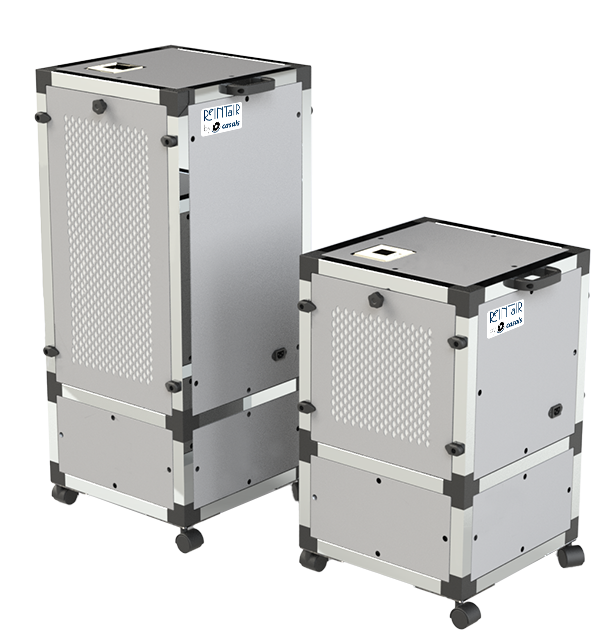 If you need a solution with installation in the ventilation ducts, Casals recommends the purification through sets of filter boxes and fans or recovery units with CURAT SYSTEM, a duct system for air renewal and cleaning in sanitary environments or any space with high viral load.
Consult our commercial technicians without obligation to optimize the filtering performance and effectiveness for your business, and increase the safety of your workers and customers.
Download here the comparison of the different sanitation processes on the market to clean or try to reduce the presence of COVID-19