Portable REINTAIR® air purifiers without installation, plug and play type. Just plugging it in turns any indoor space into a virus-free, healthy and comfortable environment.
REINTAIR®
, Casals Ventilación purifiers are equipped with two absolute
HEPA H14 filters
, the only ones that are most effective in capturing particles as small as bacteria, pollen, animal hair, tobacco smoke, etc., and any suspended particles that produce allergies, asthma and other respiratory problems. In addition, two G4
pre-filter (Iso coarse 65%)
enlarges HEPA H14 absolute filters life.
ISO 8 CLASSIFICATION (OPERATING ROOM)
The REINTAIR® have been tested and a given room where our purifier is used reaches an ISO 8 classification. This is the minimum necessary classification for a clean room or outpatient operating room.
REINTAIR® obtains a particle retention classification of ISO7 and ISO8, with ISO8 being the global classification of this purifier.
The smaller the particle in suspension, the higher the classification level REINTAIR® obtains:
ISO 7 at 0.5μm
ISO 8 in 1 and 5μm
Being capable of maintaining at least 15 renovations per hour in the premises, the room would be classified in ISO8, equivalent to an operating room where minor interventions can be carried out.
VERSION WITH PHOTOCATALYSIS AND UVC LIGHT
REINTAIR® WARRIOR
version has the Photocatalysis-UVC Tower installed, which sterilizes the system of virus and bacteria thanks to the combination of photocatalytic oxidation and ultraviolet light.
So viruses like COVID-19 will not be a problem for your business premises, office, room, waiting room, etc.*

HOW REINTAIR® WORKS
REINTAIR® is responsible for recirculating indoor air and reducing the viral load in the room, catching particles, including viruses, in HEPA H14 and G4 filters. Suitable even for any room with viral load, even ICUs.
The REINTAIR® WARRIOR version has the Photocatalysis-UVC Tower installed inside, a system that combines the photocatalytic oxidation technique with short-wave ultraviolet light to sterilize the viruses and bacteria previously captured by the filters.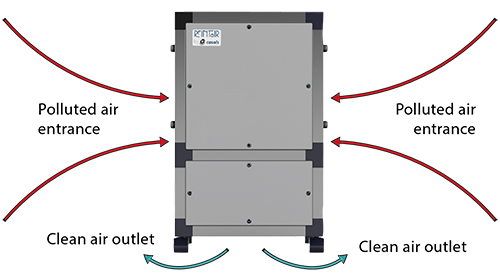 REINTAIR® is protected against corrosion to avoid deterioration with cleaning tasks.
This Casals purifier has a double panel insulated with 25mm thick rock wool, which makes it completely silent so as not to disturb you during sleep or for customers visiting your premises.
REINTAIR® is available in two sizes: 67cm tall for the REINTAIR® S size and 97cm for the REINTAIR® L size. Respectively they offer a rated flow rate of 300m3/h and 600 m3/h. Both are equipped with electronic EC motor.
REINTAIR®S is ideal for spaces up to 45m2 in area.
REINTAIR®L is the most ideal option for spaces of up to 90m2 of surface.
With a self-cleaning impeller and easy access to the filters for its replacement make it a very easy maintenance product.
The wheels allow you to move it comfortably where you need it.
The integrated control will make its use and programming much more comfortable to optimize the operation of REINTAIR® and save energy with its working modes for when the rooms are empty or when it is at night, in addition to the possibility of programming time zones.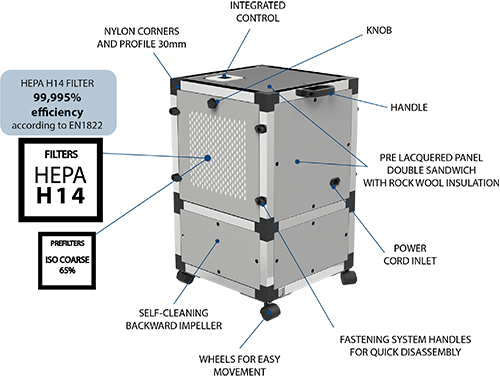 REINTAIR® by Casals AIR PURIFIER BROCHURE
Download REINTAIR® brochure here.
HOW TO GET YOUR REINTAIR®
Fill in the following form to request the purchase of a REINTAIR
Discover the full rage of air purifiers by Casals clicking here or download the REINTAIR® datasheet below for more information
download PDF